Yorkshire Dales
The Yorkshire Dales are often described as the finest walking area in England and there is no doubt that they provide the perfect setting for a guided walking holiday. It is the combination of high moorland, verdant valleys, limestone pastures criss-crossed by a tracery of dry stone walls, distinctive stone-built villages, crystal clear rivers and a myriad of waterfalls which gives the Yorkshire Dales National Park a unique quality and makes it such a favourite amongst walkers and hikers from this country and abroad. A visit to the Yorkshire Dales is always memorable.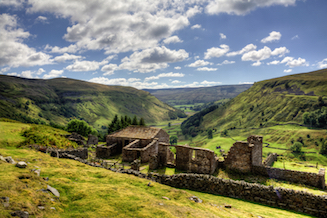 We base our tours in the north of the Yorkshire Dales National Park in Wensleydale, close to the village of Sedbusk. This excellent location will allow us not only to enjoy Wensleydale itself, but to also sample the magic of Swaledale. In the course of our walks we shall admire the exhilerating views from Kisdon, Bracken Hill and Crackpot Hall, and descend into the valleys to visit the attractive stone-built villages of Muker, Keld, Bainbridge and West Burton. We shall also have time to explore the bustling market town of Hawes, home to the famous Wensleydale Cheese, and Askrigg which features in the BBC TV series All Creatures Great and Small as the location for Skeldale House, where the vet James Herriot lived.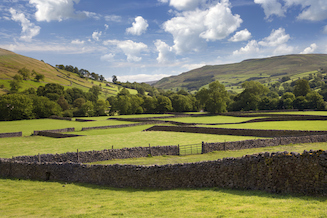 The Yorkshire Dales are famed for their wonderful rivers, and the magnificent series of waterfalls at Aysgarth and Keld will be amongst the highlights of the tour.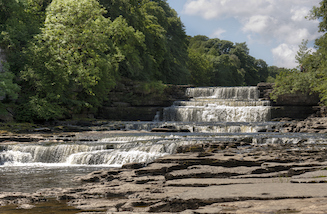 Despite its obvious attractions the area still maintains an air of tranquillity - the perfect place to unwind.
To give you a 'taster' of the landscape take a look at the beautiful aerial photography in this short video.
We stay at the Stone House Hotel, a classic country manor house and garden situated at Sedbusk in the heart of the Wensleydale countryside and close to the famous market town of Hawes.
The Stone House Hotel is a family-run establishment with an excellent reputation for comfort and cuisine, and an idyllic location in which to base a walking holiday. All bedrooms have ensuite bathroom facilities.
Holiday Options 2022
Date:
May 22 - May 27, 2022
Date:
Jul 9 - Jul 16, 2022
Date:
Sep 24 - Oct 1, 2022
All of the above prices are per person, and based upon two guests sharing a double or twin-bedded room.
Single traveller? Enjoy sole occupancy of a double room at a supplement of £25 per night. (More about single supplement)
Currency Converter: All of our prices are in British pounds. To estimate the cost in another currency use the currency converter here.
Travel information
Rail: Garsdale Head
Onward travel: Community bus or taxi