About Us
Footpath Holidays, a family-run business, has been organising top quality walking breaks for the past 38 years, and has built up an enviable reputation for professionalism, customer care and (above all) enthusiasm, friendliness and approachability.
Ian and Suzanne Newman live in and work from the tiny village of Norton Bavant, in the heart of rural Wiltshire, and enjoy nothing better than to share their knowledge of, and life-long enthusiasm for, the British countryside with guests from both home and abroad. Suzanne has walked and mountaineered throughout Britain, as well as the Alps and Pyrenees. Ian gained his mountain leadership certificate in 1987 and has walked and mountaineered extensively in Britain and worldwide. For the last five years, daughter Heather has also been involved, adding a 'third generation' to the family involvement.
Footpath Holidays guests seem happy too, with many returning time and time again. Several guests have now exceeded one hundred walking breaks, and some have taken a holiday every year since 1983!
More about where we live
We live and work in the village of Norton Bavant in the Wylye Valley. The West Wiltshire Downs rise on either side of the valley, and to the north lies Salisbury Plain, a large expanse of open grassland which provides a training ground for the British military. Stonehenge is ten miles to the west. Bath is situated 25 miles to the northwest and Salisbury a similar distance to the south east.
The picture at the head of this page looks down onto the village of Norton Bavant from the tumuli (ancient burial mound) on top of Cotley Hill. The aerial picture below shows the ridge of hills of which Cotley Hill is a part. The battlements of Scratchbury Iron Age hillfort can be clearly seen in the foreground. Norton Bavant village is fractionally off to the right, by the corner of the large wedge of trees.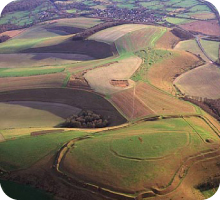 William Cobbett, the 18th century traveller, reformer and author (Cobbett's Rural Rides), was especially impressed when he rode through the area in 1826. He wrote:
"If called upon to name the spot which I deem the brightest and most beautiful and, of its extent, best of all, I should say the villages of North Bovant and Bishopstrow, between Heytesbury and Warminster in Wiltshire; for there is, as appertaining to rural objects, everything that I delight in. Smooth and verdant downs in hills and valleys of endless variety as to height and depth and shape; rich corn-land, unencumbered by fences; meadows in due proportion, and those watered at pleasure; and, lastly, the homesteads, and villages, sheltered in winter and shaded in summer by lofty and beautiful trees; to which may be added roads never dirty and a stream never dry."
"The air must be of the best in the world, and the country singularly bright and beautiful".
"A fabulous company that puts terrific trips together; pairing great UK trails with marvelous guides."
Anne L, TX USA